aventador roadster
Aventador Roadster RELENTLESS FORCE
OVERVIEW
Our dream was to create a one-of-a-kind open-top car. We made it come true with the Lamborghini Aventador Roadster, an unrivaled gem of a supercar.
Equipped with an exclusive technology package, the jewel in this car's crown is its carbon fiber monocoque. The elegance and vanity of a Roadster meet the power of a naturally aspirated 6.5 liter V-12 engine putting out 515 kW (700 CV), with incredible torque available at all engine speeds. The Aventador Roadster is an open-top supercar that combines sportiness and style. Discover the technical specifications and the full features of the Lamborghini Aventador Roadster.
EMOTION
Sports performance: have you ever heard the roar of a naturally aspirated V12 engine, launching you from 0 to 100 km/h in just three seconds? We have engineered and manufactured the Aventador Roadster precisely to give you an unprecedented and unique driving experience which ensures the adrenaline will course through your veins and never again leave you. This is why you won't be able to resist the charm of this super sports car that stylishly combines high performance with the thrill of a convertible car.
EXTERIOR DESIGN
The Lamborghini Aventador Roadster accepts no compromise when it comes to design; inspired by the aerospace industry, like the coupé version, it was designed as the perfect marriage of performance and refined style, resulting in an extremely usable vehicle which offers an electrifying driving experience.
Its lines look like the work of an obsessive engraver, deep, elegant, and clean-cut, and absolutely unmatched in the world of automotive design. The highly stretched surfaces of the bodywork are finished off with extreme care, demonstrating the skills and the expertise of Automobili Lamborghini in the use of carbon fiber materials.
Another important innovation introduced in the Lamborghini Aventador Roadster is the dual color tone: the frame of the windscreen and the area surrounding the rear window up to the «fins» are finished in gloss black. The visual effect is one of a completely open car, featuring lines which meld sportiness and elegance in breathtaking harmony.
Profile view of a metallic grey Lamborghini Aventador Roadster.
«Rear, three-quarter view of a metallic grey Lamborghini Aventador Roadster, parked at night beside a body of water. In the background, the lights of the city skyscrapers. «
Cropped image detailing the front license plate reading Aventador.
INTERIOR
Like in the Coupé version, the Aventador Roadster's interior is also strongly inspired by aerospace, combining cutting-edge technology such as the active-matrix TFT display and Drive Select Mode system with the highest quality materials and workmanship. All in the best Italian tradition. The most important technical development adopted on the Roadster is the two-part hardtop, made entirely in carbon fiber to complete the chassis perfectly, as this is also made with composite technology.
Ogłoszenia — OLX.pl — lamborghini aventador
Pozostałe ogłoszenia
Znaleziono 210 ogłoszeń
Znaleziono 210 ogłoszeń
Twoje ogłoszenie na górze listy? Wyróżnij!
Lamborghini Aventador J autoart 1:43
Sport i Hobby » Kolekcje
115 zł
Lamborghini Aventador J autoart 1:43
Sport i Hobby » Kolekcje
115 zł
Auto na akumulator lamborghini aventador czarny
Dla Dzieci » Zabawki
1 137 zł
Katowice, Bogucice wczoraj 19:24
Lamborghini Aventador Cesja Leasingu rata 18 748,00 PLN brutto
Samochody osobowe » Pozostałe osobowe
250 000 zł
Warszawa, Śródmieście wczoraj 17:08
Auto na Akumulator dla dzieci Lamborghini Aventador Czerwony eFernando
Dla Dzieci » Zabawki
989 zł
Gdańsk, Śródmieście wczoraj 15:51
Pojazd elektryczny dla dzieci Lamborghini Aventador Białe EVA LED Mp3
Dla Dzieci » Zabawki
989 zł
Lamborghini Aventador LP740 Zderzak przód przedni
Części samochodowe » Osobowe
1 500 zł
Lamborghini Aventador metalowy model samochód WELLY.
Dla Dzieci » Zabawki
25 zł
Lamborghini Aventador LP 700 4 6.5 V12 700KM CarbonCeramic Hamulce, Kamera cofania
Samochody osobowe » Pozostałe osobowe
774 997 zł
Auto na akumulator lamborghini aventador biały
Dla Dzieci » Zabawki
1 137 zł
OSLONA NA SILNIK LAMBORGHINI AVENTADOR CARBON
Części samochodowe » Osobowe
2 900 zł
LUSTERKO LEWE LAMBORGHINI AVENTADOR NOWE
Części samochodowe » Osobowe
1 500 zł
LUSTERKO PRAWE LAMBORGHINI AVENTADOR NOWE
Części samochodowe » Osobowe
1 500 zł
LUSTERKO PRAWE LAMBORGHINI AVENTADOR NOWE
Części samochodowe » Osobowe
2 900 zł
ZDERZAK KOMPLETNY > Części samochodowe » Osobowe
6 900 zł
Lamborghini Aventador 700km Roadster LP700 4 Sensonum FV23%
Samochody osobowe » Pozostałe osobowe
1 259 900 zł
Oryginalne LAMBORGHINI AVENTADOR niepowtarzalny model PEŁNA OPCJA
Dla Dzieci » Zabawki
1 239 zł
BBurago, Lamborghini Aventador LP7004 1:18
Sport i Hobby » Kolekcje
75 zł
Klocki MECCANO Lamborghini Aventador — NOWE
Dla Dzieci » Zabawki
230 zł
Auto R/C Lamborghini Aventador Rastar 1:14
Dla Dzieci » Zabawki
159 zł
Lamborghini PENDRIVE Urus Aventador Huracan ORYGINAŁ O k a z j a
Sprzęt audio » Głośniki i kolumny
50 zł
ZDALNIE Sterowany LAMBORGHINI AVENTADOR LP700-4, ,radio control, pilot
Dla Dzieci » Zabawki
100 zł
SPOILER HOKEJ CARBON LAMBORGHINI AVENTADOR PRZOD
Części samochodowe » Osobowe
5 000 zł
Lamborghini Aventador 30 cm na pilota
Dla Dzieci » Zabawki
60 zł
Lamborghini Aventador LP 700 4 6.5 V12 700KM Ceramic Hamulce
Samochody osobowe » Pozostałe osobowe
1 099 000 zł
Hot Wheels Lamborghini Aventador J — Nowy resorak
Dla Dzieci » Zabawki
12 zł
Nadkole lewe przód Lamborghini Aventador Lp700-4
Części samochodowe » Osobowe
1 100 zł
LAMBORGHINI AVENTADOR SVJ ZDERZAK PRZÓD PRZEDNI
Części samochodowe » Osobowe
32 000 zł
Lamborghini Aventador LP700-4 1:43
Dla Dzieci » Zabawki
20 zł
Auto na Akumulator dla dzieci Lamborghini Aventador Żółty od eFernando
Dla Dzieci » Zabawki
989 zł
Auto na Akumulator dla dzieci Lamborghini Aventador Czarny eFernando
Dla Dzieci » Zabawki
989 zł
Auto na Akumulator dla dzieci Lamborghini Aventador Biały eFernando
Dla Dzieci » Zabawki
989 zł
Auto na Akumulator dla dzieci Lamborghini Aventador Zielony eFernando
Dla Dzieci » Zabawki
989 zł
Auto na Akumulator dla dzieci Lamborghini Aventador Czarny Elektryczny
Dla Dzieci » Zabawki
989 zł
Auto na Akumulator Lamborghini Aventador Czarny
Dla Dzieci » Zabawki
999 zł
Auto na Akumulator Lamborghini Aventador Zielony
Dla Dzieci » Zabawki
999 zł
Auto na Akumulator Lamborghini Aventador Biały
Dla Dzieci » Zabawki
999 zł
Warszawa, Śródmieście 8 mar
Auto na Akumulator Lamborghini Aventador Zielony
Dla Dzieci » Zabawki
999 zł
Pojazd elektryczny dla dzieci Lamborghini Aventador Zielony EVA LED
Dla Dzieci » Zabawki
989 zł
Podobne wyszukiwania:
lamborghini aventador w kategorii Zabawki
lamborghini aventador w kategorii Części samochodowe
Ostatnio przeglądane
Obserwowane ogłoszenia ( 0 )
Obserwowane wyszukiwania ( 0 )
To ogłoszenie nie jest już dostępne
Wybierz coś dla siebie z podobnych, które znaleźliśmy.
Kategorie główne :
Śląskie (48)
Dolnośląskie (14)
Opolskie (5)
Podlaskie (1)
Wielkopolskie (36)
Pomorskie (11)
Warmińsko-mazurskie (5)
Małopolskie (22)
Zachodniopomorskie (8)
Kujawsko-pomorskie (5)
Łódzkie (17)
Lubelskie (7)
Lubuskie (4)
Mazowieckie (16)
Podkarpackie (7)
Świętokrzyskie (4)
Ogłoszenia , OLX.pl to bezpłatny serwis ogłoszeniowy w którym znajdziesz ogłoszenia z Twojej okolicy. Dodawaj i przeglądaj ogłoszenia za darmo, znajduj kupujących w okolicy i przeprowadzaj transakcje. Na OLX.pl znajdziesz interesujące ogłoszenia Nieruchomości, Pracy oraz Kupię, Sprzedam.
Darmowa aplikacja na Twój telefon
Wyszukiwanie zostało dodane do obserwowanych
Ogłoszenie dodane do obserwowanych
Zaloguj się do OLX.pl aby zapamiętać je na «stałe»
Korzystając z naszych usług, przyjmujesz do wiadomości, że używamy plików cookie i podobnych technologii do ulepszania i dostosowania treści, analizy ruchu, dostarczania reklam oraz ochrony przed spamem, złośliwym oprogramowaniem i nieuprawnionym dostępem.
Dowiedz się więcej.
Możesz zarządzać swoimi preferencjami reklamowymi dotyczącymi partnerów zarządzanych przez OLX, klikając tutaj
Chcesz otrzymywać takie oferty na email?
Ustaw hasło
Dlaczego warto założyć konto na OLX?
łatwe zarządzanie ogłoszeniami
dostęp do wszystkich odpowiedzi
łatwe zmiany ustawień konta
Kontynuuj z FacebookUstaw hasło
Lamborghini Aventador Roadster wyprzedane do połowy 2014

Lamborghini Aventador Roadster
Zaledwie trzy miesiące temu Lamborghini opublikowało pierwsze oficjalne zdjęcia i dane techniczne modelu Aventador Roadster, który sprzedaje się na pniu. Do tej pory firma zebrała zamówienia, które pokryły produkcję auta do połowy 2014 roku.
Jasne było, że tak samo jak i Aventador z zamkniętym dachem, tak i wersja Roadster, będzie ogromnym sukcesem dla Lamborghini. Nikt nie spodziewał się jednak, że miłośnicy włoskiej marki będą chcieli zapłacić aż tyle, by cieszyć się wiatrem we włosach.
Zwierzęta, również te mityczne, zawsze miały ważne znaczenie symboliczne. Czczono je lub się ich bano, utożsamiano z różnymi cechami, jak siła czy szybkość. Nic więc dziwnego, że wiele marek zdecydowało się umieścić w swoim logo walecznego byka lub zwinnego jaguara.
Jak donoszą nasi koledzy z redakcji Auto Motor und Sport, Lamborghini zebrało tak dużą liczbę zamówień, że firma skończy je realizować dopiero w okresie wakacyjnym w 2014 roku. Jeśli więc ktoś będzie chciał nabyć Aventadora Roadster koniecznie w tym roku, będzie musiał sporo dopłacić.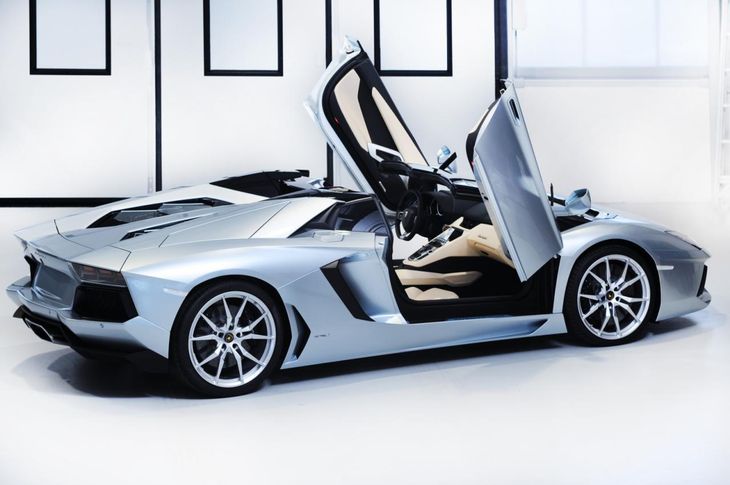 Lamborghini Aventador Roadster
Swoją drogą jest za co dopłacać, bowiem auto napędzane jest centralnie umieszczoną jednostką V12 o pojemności 6,5 l, która produkuje 700 KM oraz 690 Nm momentu obrotowego. W rezultacie, nawet bez dachu nad głową, dwumiejscowy Roadster przyspiesza od 0 do 100 km/h w 3,0 s oraz rozpędza się do 350 km/h.
Większość producentów sportowych aut często wprowadza na rynek hardcorowe wersje swoich topowych modeli. Mniejsza masa, większa moc i wyższa cena. Przyjrzyjmy się wściekłym wersjom wściekłych aut. Przed Wami przegląd wyścigówek, którymi można jeździć po drogach publicznych.
W Europie ceny rozpoczynają się od 300 000 euro, podczas gdy klienci ze Stanów Zjednoczonych muszą zapłacić za auto 400 000 dolarów. Do obu sum trzeba jeszcze doliczyć podatki.
Lamborghini Aventador Roadster LP700-4
Opis ogłoszenia
Salon Samochodowy: IMPORTS AUTO SALON
Telefon kontaktowy: +48. pokaż numer
Lamborghini Aventador 700km Roadster LP700-4 Sensonum FV23% faktura FV23%
CENA BRUTTO 1.491 900 zł (cena auta po wszystkich opłatach, akcyza opłacona w pełnej kwocie)
Historia samochodu / Historia Sprowadzenia
– Auto kupione w Niemieckim salonie BMW
– Pierwszy właściciel od nowości
– Serwisowany w ASO BMW Niemcy
– Książka serwisowa
– Kpl dokumentów (opłacona akcyza, przegląd, tłumaczenia, faktura, oryginalne tablice przywozowe)
– Auto sprzedajemy na podstawie Faktury VAT 23%
Walory techniczno / estetyczne:
– Stan mechaniczny (wzorowy, po odbytym okresowym serwisie w ASO BMW)
– Wizualnie (brak zarysowań, otarć oraz wgnieceń) "ORYGINALNA POWŁOKA LAKIERNICZA"
– Auto w 100% bezwypadkowe
Ogólnopolska gwarancja producenta na 24 miesiące od daty pierwszej rejestracji
– Typ Nadwozia: Roadster
– Rodzaj Silnika: Benzynowy
– Moc: 449KM
– Skrzynia biegów: Automatyczna
– Przebieg: 12.700 km
– Kolor: Wiśniowy metalik
W celu uzyskania pełnej specyfikacji prosimy o kontakt telefoniczny.
11/2015 w w 5 981 km
01/2017 w w 7 842 km
04/2018 w w 13 712 km
Wnętrze skórzane BI-Color czarno/biały
Przezroczysta maska
Sensonum Premium Sound system
W pełni elektrycznie regulowane siedzenia
Pakiet dźwięku
Przedni + tylny park tronic PDC z tylną kamerą
dekoracyjne szwy białe (Arancio Leonis)
Kierownica wielofunkcyjna z perforowaną skórą
Emblematy lamborgihni tłoczone w zagłówkach
Pokrywa komory silnika węgiel
Maty drzwiowe czarne
ABS
alufelgi
Bluetooth
Centralny zamek
Czujnik deszczu
Czujnik świateł
Elektryczne szyby
Elektrycznie regulowane fotele
Elektrycznie sterowane lusterka boczne
gwarancja
immobiliser
Klimatyzacja automatyczna
Komputer pokładowy
Kontrola trakcji
Skórzana kierownica
Światła do jazdy LED
Napęd na cztery koła
Dołącz CD
Manetki do łopatek
Pakiet sportowy
Podgrzewane fotele
Pojazd użytkowany przez osoby niepełnosprawne
Przednie i boczne poduszki powietrzne
Radioodbiornik
Reflektory ksenonowe
serwisowany
Nagłośnienie
Sportowe fotele
Sportowe zawieszenie
System nawigacji
System start-stop
Układ ESP
Port USB
Sterowanie głosem
Wielofunkcyjna kierownica
Wspomaganie kierownicy
Zestaw głośnomówiący
Zapraszamy do zobaczenia tego pojazdu na miejscu.
Skontaktuj się z nami w celu uzyskania wszystkich niezbędnych informacji: +48. pokaż numer
New Lamborghini Aventador Roadster — 2020 Models
ESTORIL, Portugal – Turning up at a racetrack to flog the living daylights out of a 566 kW supercar constitutes a magnificent day at the office, but it also triggers a mild degree of trepidation. Particularly as we've just been informed the newly laid tarmac at the Circuito do Estoril offers very little in the way of grip. There's as yet no rubber laid down on the track, and residual oil from the fresh asphalt has seeped to the surface under the hot sun.
But, what the heck, this is no ordinary supercar. This is Lamborghini's brand-new Aventador SVJ (Super Veloce Jota). "Super Veloce" is Italian for "Super Fast", while Jota is Spanish for the letter 'J', which is a reference to 'Appendix J', the FIA rulebook governing the preparation of road-based race cars. Lamborghini will build just 900 SVJs (priced from R9 483 006), and an additional 63 «special editions» with individually numbered plaques. The latter number commemorates the year Lamborghini was born – 1963.
The SVJ's big claim to fame comes via a staggering 6:44,97 lap at the Nürburgring Nordschleife, making it the fastest production car around the daunting 20,6 km circuit – eclipsing the former record of 6:47,30 set by the Porsche 911 GT2 RS a few months earlier.
Beating the GT2 RS's lap required every aspect of the Aventador – chassis, drivetrain and aero – to be fettled. For starters, the SVJ's mighty, free-spinning 6,5-litre V12 was reworked for better breathing via titanium intake valves, redesigned cylinder heads and reshaped intake runners. It also scores a new lightweight exhaust system with two large pipes exiting halfway up the rear facia to mimic extreme motorbikes. Apart from reducing back pressure, the other payoff with the new exhaust is a sonic signature that makes the hairs on the back of your neck stand on end. It's bloodcurdlingly lovely.
The SVJ also gets 50% stiffer antiroll bars than the already hardcore Aventador SV, while its bespoke lightweight rims are shod with specially developed Pirelli P Zero Corsa tyres. That said, an extra spend gets you the Kevlar-reinforced Trofeo R boots (as used by the Nürburgring record breaker) that can withstand the huge loads placed by a sustained thrashing on a long, fast, high-downforce circuit such as the Nordschleife.
And it's downforce where the SVJ really makes its gains, thanks to a massive fixed rear wing, aggressive two-plane splitter, air-channelling vents in the top of the nose and winglets on the front corners that smooth the airflow down the flanks and channel more air to the radiator intakes. All these add up to an extra 40% of downforce compared with the bewinged Aventador SV.

But the real trick bit is Version 2,0 of the clever ALA ("Aerodinamica Lamborghini Attiva") active aero wizardry that enabled the Huracán Performante to claim 'Ring king status in 2017. The principle is exactly the same this time around. There is a pair of ducts – opened and closed by small electric motors – at the front and rear of the car, and the job of these is to either «stall» (i.e. cancel out) the downforce of the front splitter and rear wing or allow air to flow as normal across these to generate maximum downforce.
So, on the straights the ducts stall the aero addenda for a speed-enhancing low-drag setup, but the instant you hit the brakes it reverts to high-downforce mode to stabilise the car. The pièce de résistance is «aero vectoring», which stalls the outside half of the rear wing when cornering. Meanwhile, maximum downforce is applied to inner half, helping the car turn into the bend. It's the same principle as torque vectoring, just using airflow rather than braking the inside wheels.
All great in theory, but what does the Aventador SVJ actually feel like out in the real world? In a word: gobsmacking. It's a wonderfully playful and entertaining brute that devours straights and virtually defies physics with its ability to carry enormous cornering speeds, even on a super-slippery Circuito do Estoril.
A big part of the Lambo's appeal is down to that epic V12. Which other engine offers so much grunt down low, yet sings its way to 8 700 r/min with such joyful ease? The addition of the free-flow exhaust to the SVJ has made it an even more sonorous motor (especially in Corsa mode), with a banshee-like wail in the upper half of its rev band and flame-spitting visual drama.
But what really separates the SVJ from past Aventadors is the confidence with which you can work up to its (or your own) limits. Even with that big lump of a V12 at the back, the car has wonderful balance, and there's a newfound adjustability that certainly wasn't there in the past. Dived into a corner too hot? No problem, a little lift of the throttle or light dab on the brakes instantly gets the nose tucked in.
The massive carbon-ceramic stoppers are progressive and offer good pedal feel, inspiring confidence to stand on them as late as possible even at the end of the pit straight at Estoril … with the speedo reading in excess of 280 km/h. The car squirms noticeably under full retardation, but there's never a nagging concern that the V12-laden rear end will overtake the rest of the car.
Limitations? The Aventador SVJ is by no means flawless. The ISR gearbox might be hugely improved, but it's still not a patch on the latest-gen dual-clutch 'boxes offered in its Ferrari/Porsche/McLaren rivals. And the cabin is still compromised in the extreme. Anyone over 1,8 metres will find their headroom restricted, while the fixed-back seats in the SVJ are fine for a brief thrash around a racetrack, but they'd be backache material after a few hours on the road. Rear and lateral visibility were hardly good in the original Aventador, but the SVJ's massive wing pretty much nullifies whatever view existed out back.
On the plus side, Lamborghini's engineers have extracted every last iota of dynamic potential out of the Aventador for the SVJ. It's a fitting swansong, sending the model off with panache before an all-new replacement arrives in two years or so. A true Raging Bull great.
Watch Lamborghini Aventador SV Roadster Hit 160 MPH In Half A Mile
It sounds glorious doing it, too.
If you're a regular Motor1.com reader, you know all about Johnny Bohmer Proving Grounds. If you're new to our digital halls, here's what you need to know about this video. The action takes place on a 3.2-mile runway, but it's not just any runway. This ultra-flat strip of concrete in Florida was once used by the Space Shuttle, and now it's a place where the JBPG folks can bolt-up some speed-testing equipment and stretch the legs of the world's greatest supercars.
This time around, we're treated to a short-but-sweet run with a 2016 Lamborghini Aventador SV Roadster. We say short because this particular pass only uses a half-mile stretch of the total space, sampling the supercar's accelerative capabilities. It's also a chance to wrap our ears around the glorious sound of Lamborghini's enduring 6.5-liter V12, which in this iteration makes 740 horsepower (552 kilowatts) for all four wheels to use.
More Short-Track Action At JBPG:
And the wheels make good use of that grip. We briefly see 1.0g on the accelerometer during the Lambo's blitz through first gear. That's some terrific bite for an unprepped surface, but the Aventador keeps pulling hard all the way to 159 mph. Specifically, the official speed at the half-mile mark is 159.2 mph, and while timing information isn't available, a rough estimate shows the Lamborghini covering the distance in around 17 seconds. Folks, that's quick.
We often see speed runs covering the full 2.7 miles of usable space on the runway, but half-mile sprints are an outstanding showcase of a car's real-world traction and visceral acceleration. We've certainly seen other cars reach much higher top speeds traversing the entire strip, but not many stock vehicles will outrun an Aventador in a half-mile race. Even fewer sound as good doing it.
2020 Lamborghini Aventador SVJ Roadster Revels in Pure V-12 Excess
The hardcore Aventador SVJ roadster is absolutely bonkers and may be the last V-12 Lamborghini without a hybrid system.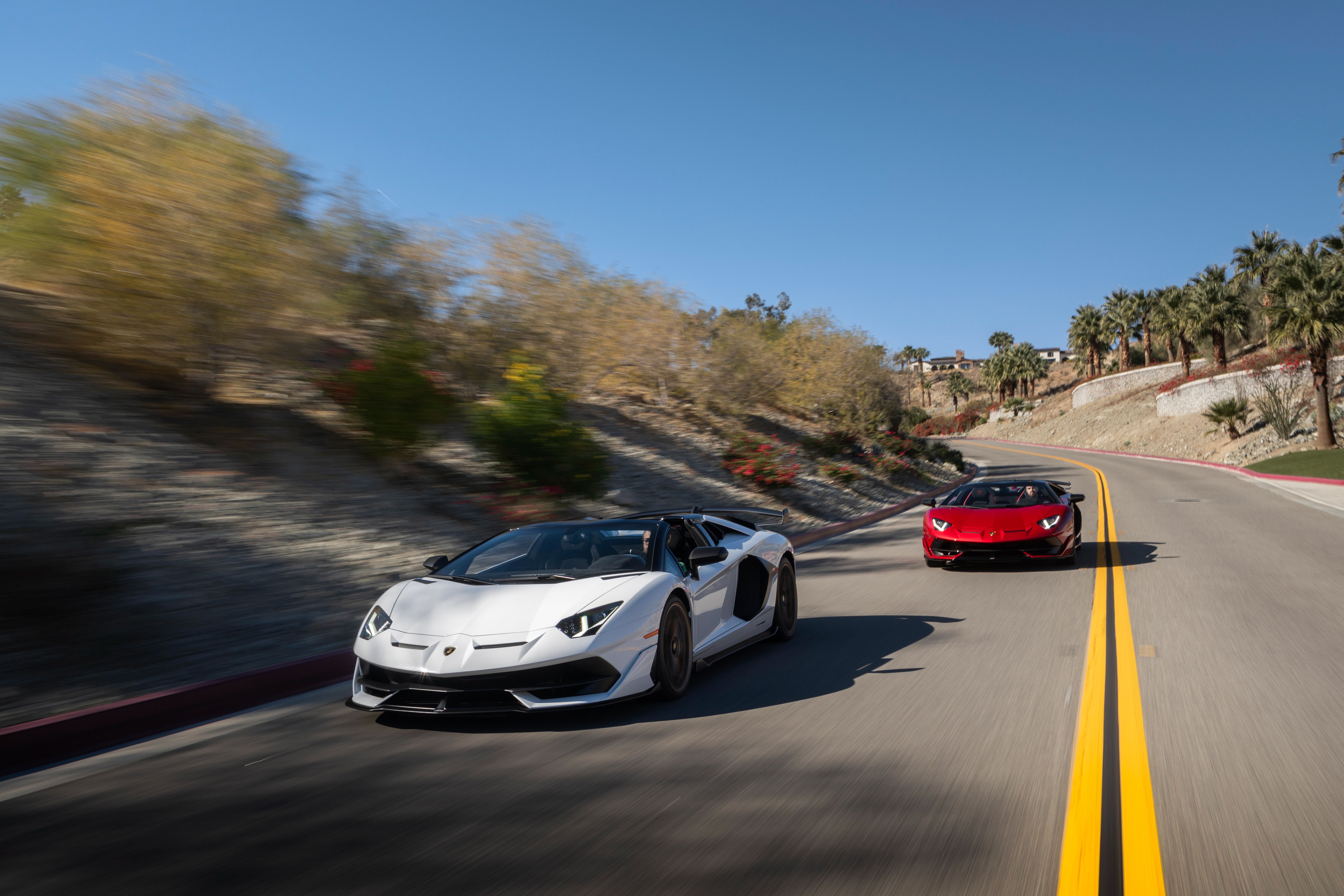 The Lamborghini Aventador SVJ roadster is the hardcore, concentrated, and undiluted essence of a classic supercar. It's powered by a massive, 759-hp 6.5-liter V-12 stuck in the middle of the car. It's free of turbochargers, superchargers, and any concern about fuel costs. And it's a real Lamborghini engine—not something assembled in an Audi engine plant and shipped to Italy in a box. This is special stuff, a V-12 that's not shared with Audi, Bentley, Bugatti, Porsche, Volkswagen, nor any other of Lamborghini's corporate kin.
HIGHS: Epic V-12 engine, mountainous performance ability, eyeball-shattering looks.
The SVJ roadster looks as though it were chiseled out of a block of petrified cash, and it roars as if the exhaust were composed by Giuseppe Verdi. Shockingly impractical, spectacularly theatrical, it's altogether maniacal. The example we drove, drowning in Rosso Efesto red paint, cost $667,661. That's about two-thirds of a million dollars, the sort of money buyers like to brag about having paid. We should mention that the price includes $14,800 for the paint, a $6400 gas-guzzler charge, and $3695 for destination. So, value.
The SVJ stands for Super Veloce Jota. It pays tribute to the one-off Miura Jota, a model that test driver Bob Wallace modified in 1970 to meet the FIA's Appendix J rules.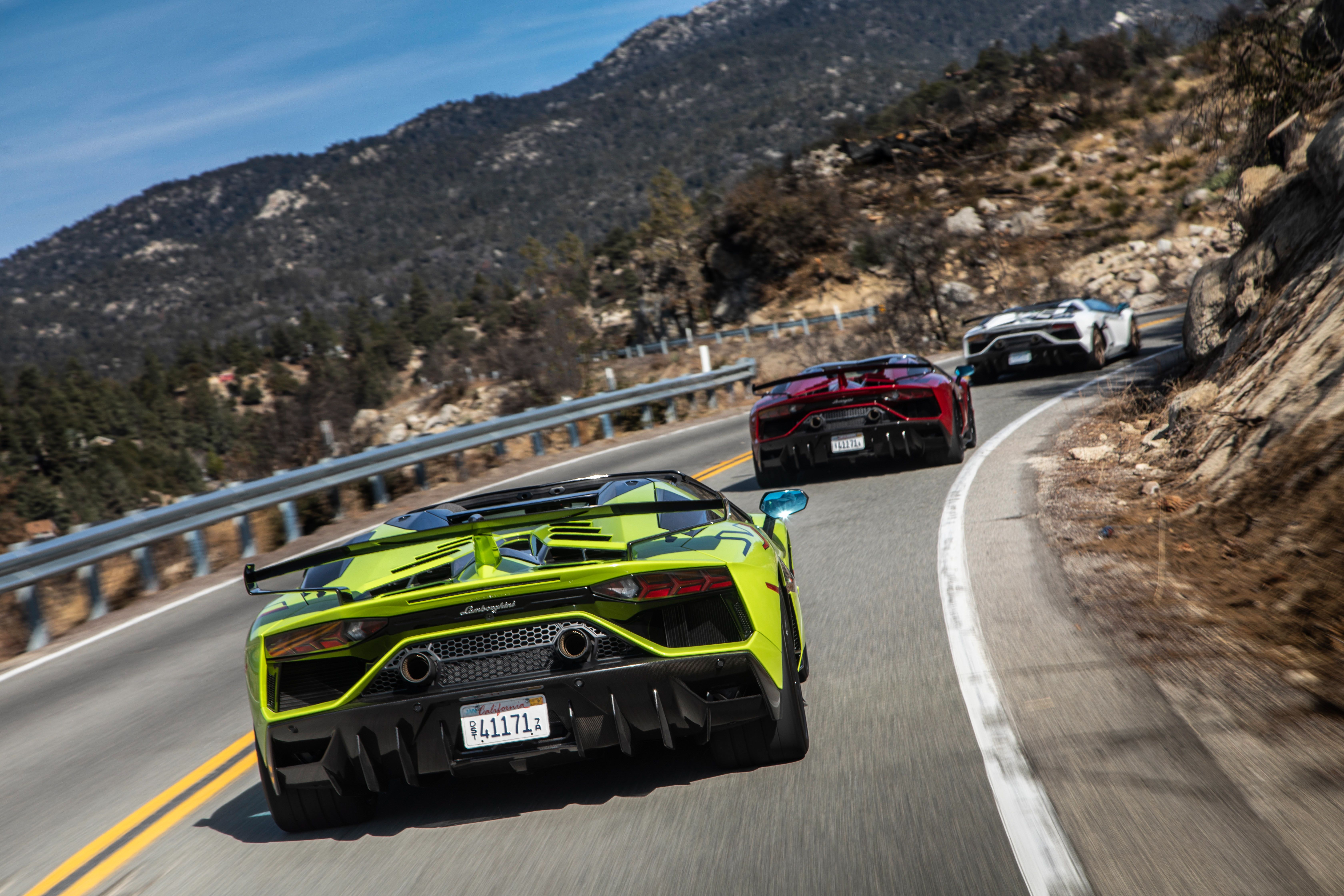 Swan Song
In every way, the equipment that turns a pokey old Aventador S coupe into the SVJ model also is aboard the roadster. The engine is fortified with titanium intake valves and fitted with a new intake system and a La Scala–worthy exhaust. Output improves by 29 horses compared with the 730-hp Aventador S. But EPA ratings of 9 mpg in the city and 15 mpg on the highway make it one of the 10 least efficient vehicles currently on sale.
Lamborghini will make a total of 800 roadsters, likely finishing up production in 2021 as the Aventador hits its 10th and, perhaps final, year. Lambo says it's committed to the V-12 engine, but the upcoming Sián pairs all those cylinders with a hybrid system. With that in mind, the SVJ roadster has a sort of elegiac vibe. This feels historic, as it's likely to be the last of Lamborghini's V-12 machines in which the engine doesn't share some of the glory with an electric motor.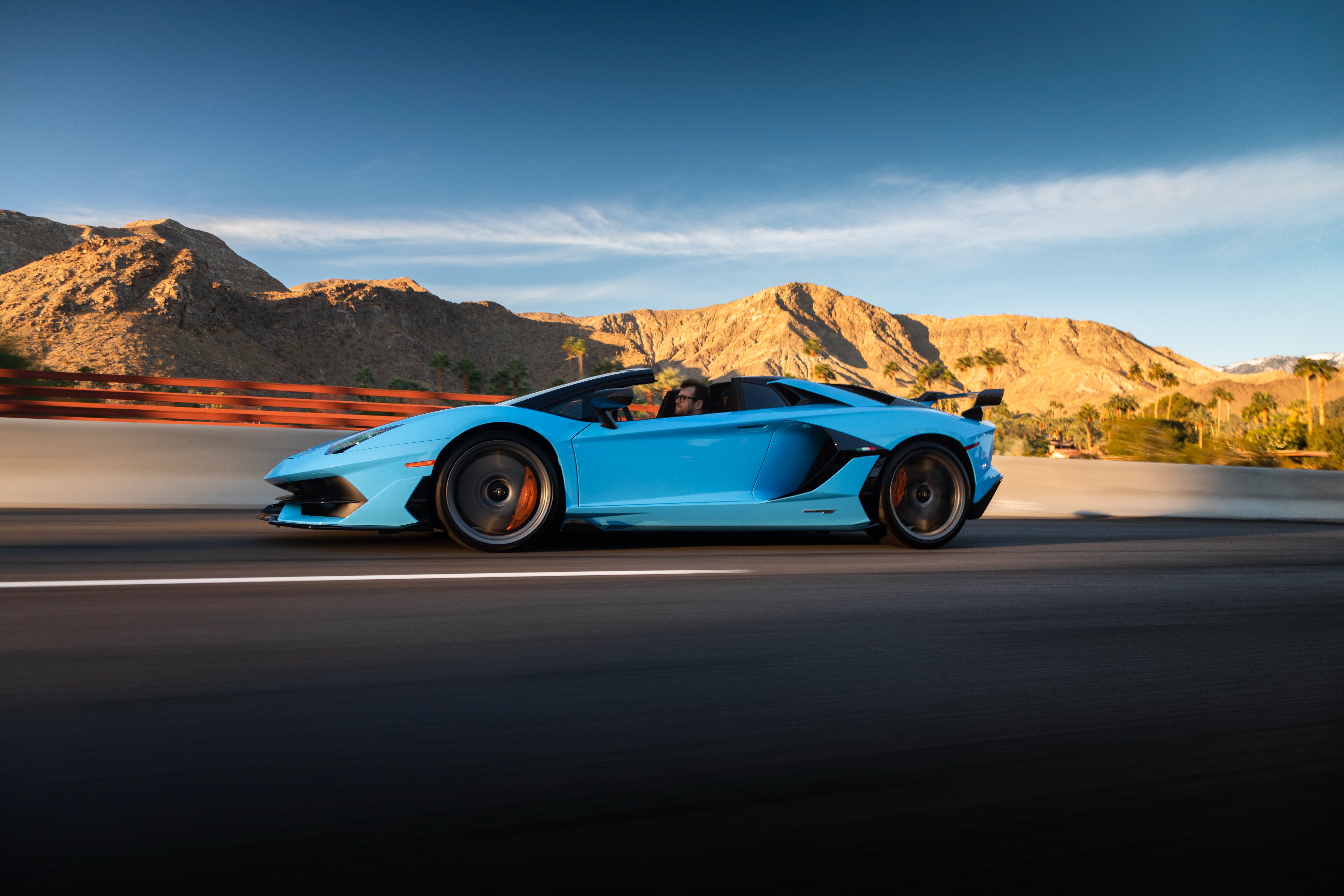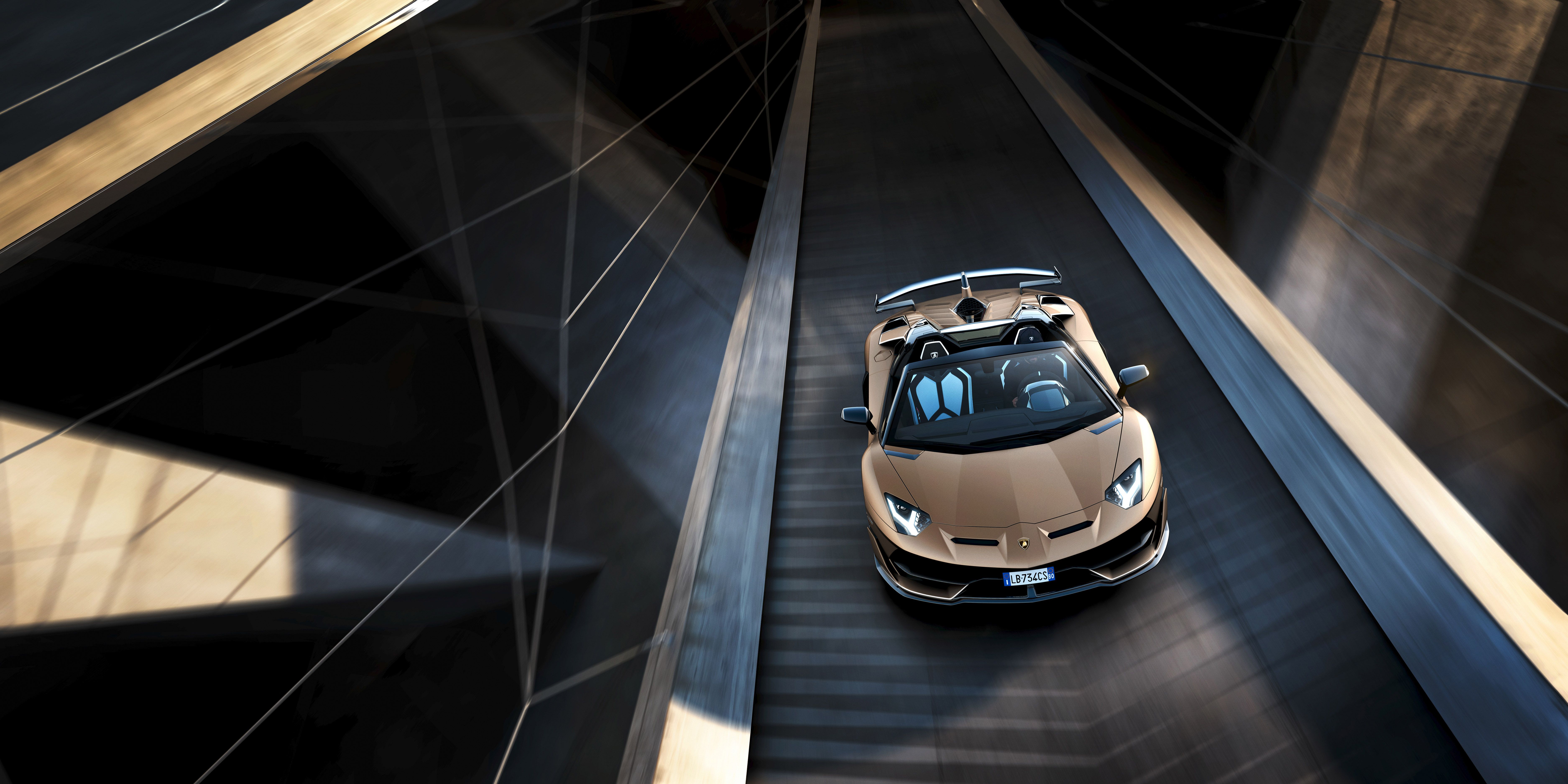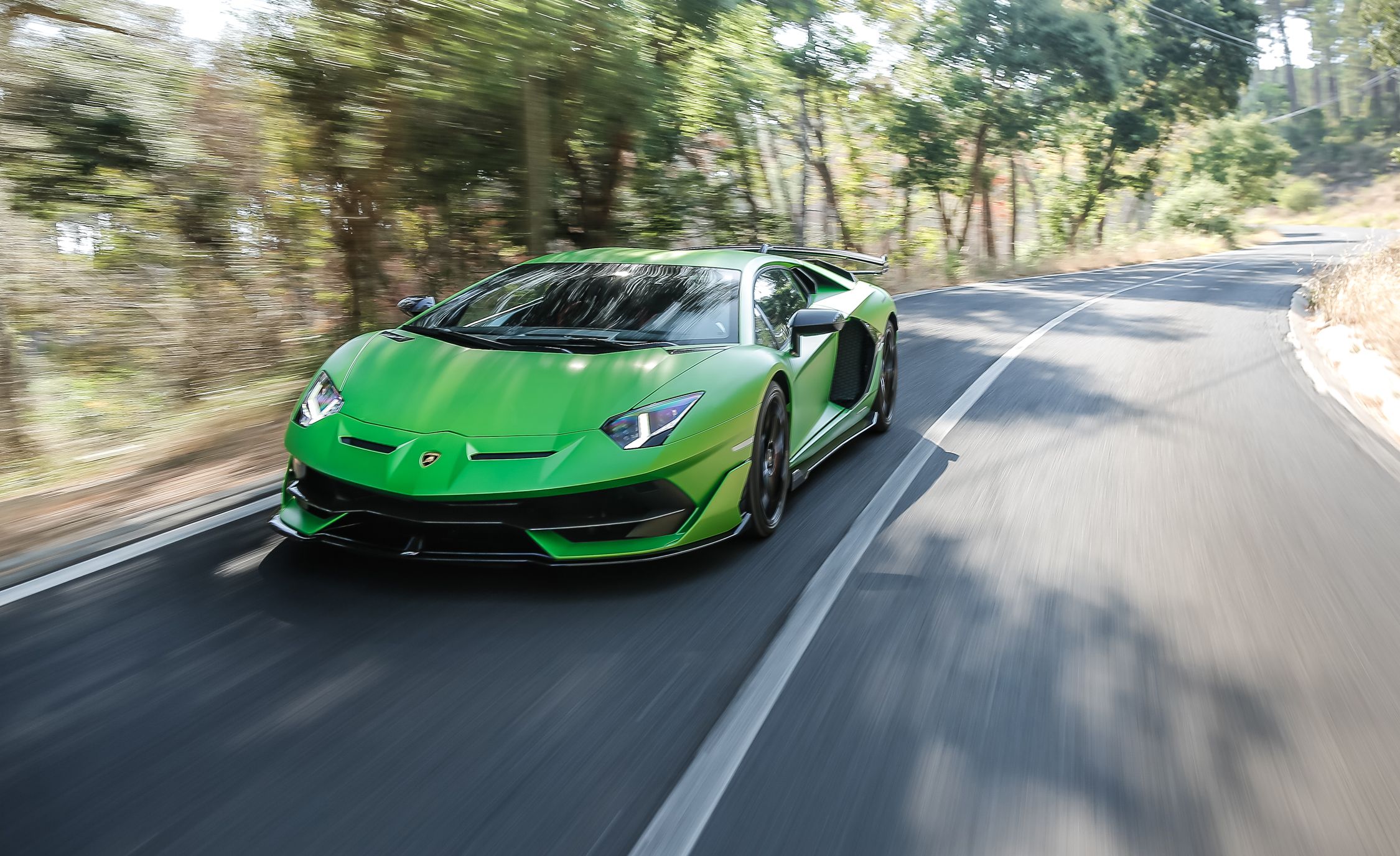 As to the operation of the carbon-fiber top, don't bother removing it. It's too much of a hassle to get on and off. So leave it off, and when monsoon season comes, drive your Urus. Flip up the red cover on the center console, press the start button, and for a moment, the SVJ roadster sits in pregnant pause. It's like the conductor of an orchestra waiting to make sure the audience is seated before starting the performance. Then, after an anticipatory whir from the starter, the whole damn thing screams like the New York Philharmonic being thrown down an elevator shaft at Nakatomi Plaza. Lamborghini mounts the exhaust outlets high in the tail, which puts the sound almost at the driver's ear. We're not sure if there's some code buried in the Aventador's software that would allow fire to spew from the exhaust, but it would look cool while trawling through Miami.
LOWS: Reluctant and dumb transmission, guzzles fuel, silly removable roof.
The scissor doors are silly and difficult to close, but they're so beloved that they are as much a part of this Lamborghini as the V-12. The Aventador remains, by far, the most civilized of the 12-cylinder Lambos. The driving position is good, there's room for even tall drivers to stretch their legs, and the seats are supportive and shaped to accommodate just about anyone. The steering wheel is manually adjustable for height and reach. The shift paddles are in the right place even when the steering wheel is sawing about catching a lascivious powerslide. But, like in any old supercar, actually seeing anything out the rear window isn't an option.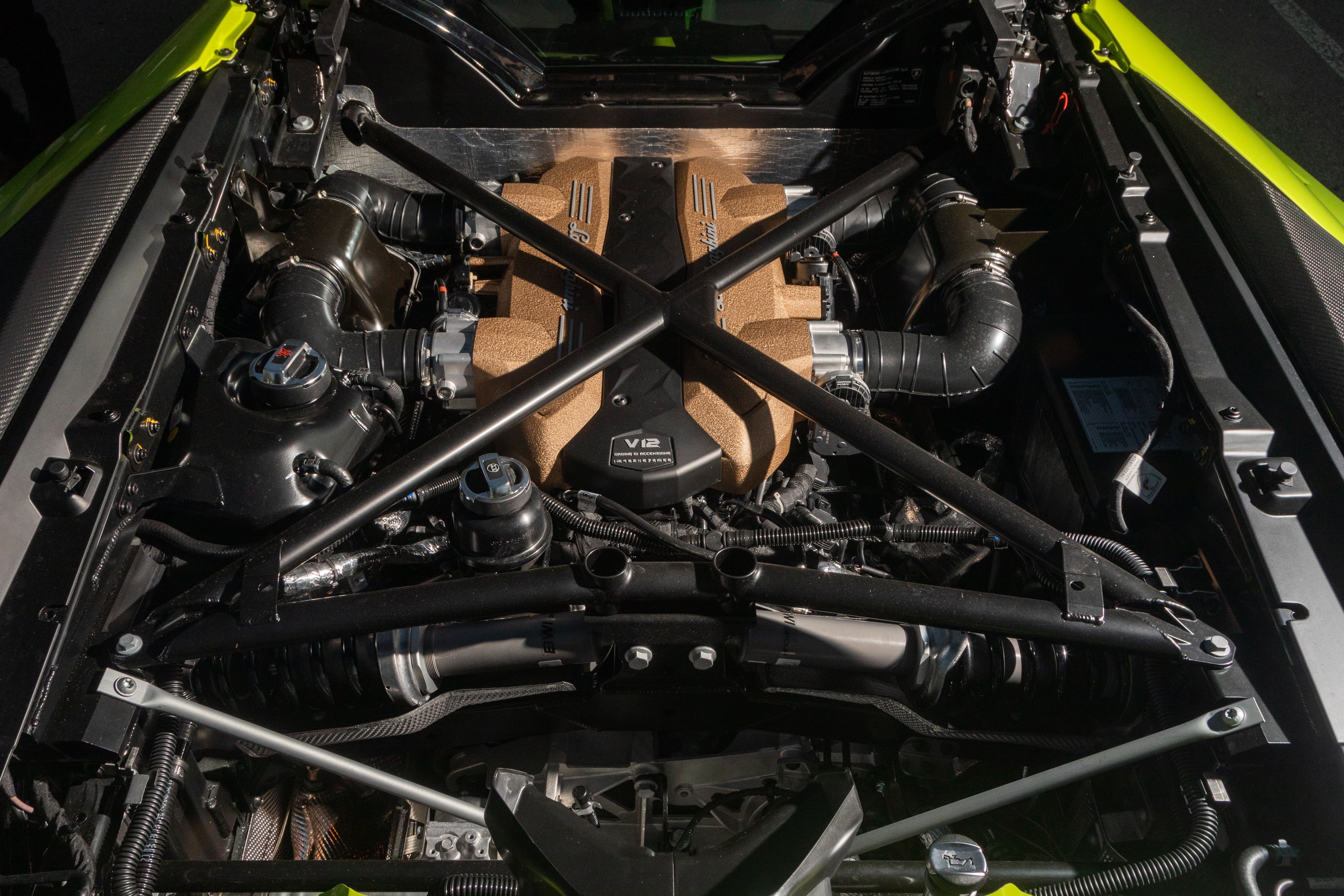 Purely Focused
Pick a drive mode—Strada for street use, Sport for street abuse, and Corsa for when the street is actually a track—and the all-wheel-drive system tweaks its front-to-rear bias and changes the damping rates from firm to «I'm jiggling.» In any mode, the chassis has the sort of adhesion that makes barnacles look like quitters. The ride quality in Strada is tolerable, with handling keen enough for most situations, but clicking into Corsa does notably sharpen the driving experience. Save Corsa for the next lifetime when you're reincarnated as Valentino Balboni's more talented nephew.
Dive into a corner and the front end bites into the apex while the rear-wheel steering brings the tail along in a perfect arc. This car drives much smaller than its 106.3-inch wheelbase indicates. Incidentally, if you're cross-shopping by wheelbase, that's identical to the defunct Chevrolet Cruze's. Maybe you can find a clean one sold out of a rental fleet.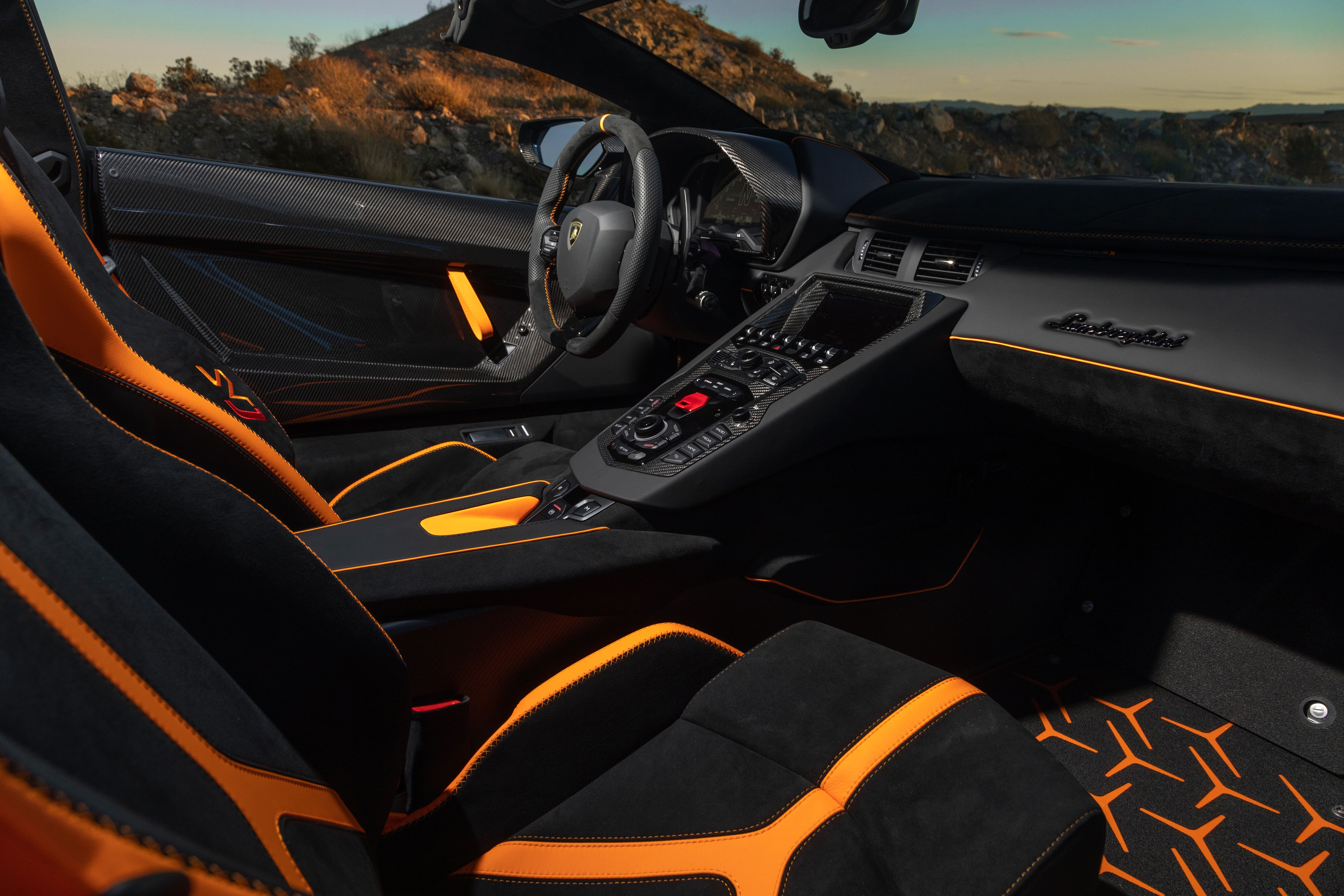 Lamborghini wants everyone to believe that much of the credit for this brilliant handling comes from the Aerodinamica Lamborghini Attiva (ALA) active aerodynamics system. ALA does all sorts of neat, tricky things using variable aero openings in the nose and tail to direct air where it's most useful during hard driving. But come on, unless you built your mansion alongside Turn 5 at Daytona, the opportunities to reach velocities where the aero stuff matters will be rare. Let's give credit where it's due: The 255/30ZR-20 front and 355/25ZR-21 rear Pirelli P Zero Corsa tires and the all-wheel-drive system do the real work here.
Charmingly Coarse
Now, the bad news. The transmission is crap. Back when it was introduced, in 2010, Lamborghini's seven-speed Independent Shifting Rod (a.k.a. ISR) single-clutch automatic gearbox promised short shift times. But in traffic while in Strada mode, every shift includes a moment of hesitation while the transmission decides whether it wants to actually change gears or not. It's enough that the driver and passenger can feel their torsos move forward into the belts. Shift times are quicker in Sport and Corsa, but at the expense of some smoothness.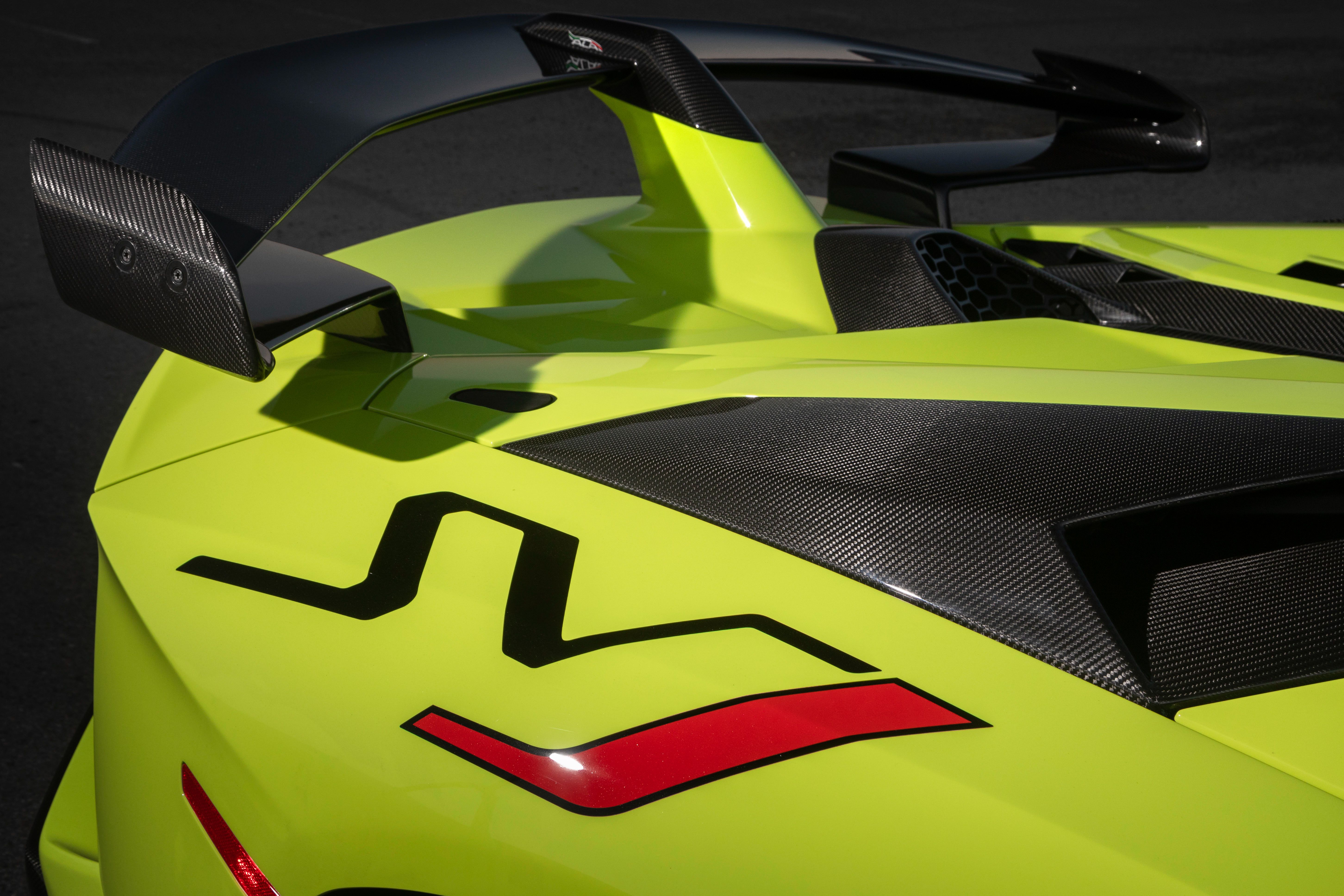 Lamborghini claims that the roadster is only 110 pounds heavier than the closed-roof model. Launch it in Sport or Corsa and it leaps forward so quickly that the air around it takes on an al dente texture. Lamborghini claims a zero-to-62-mph time of 2.9 seconds and a top speed of 217 mph. C/D hasn't tested the SVJ roadster yet, but it sure feels that quick. And the standard carbon-ceramic brakes are big enough to stop the inevitable entropic dissipation of the universe.
It's been a good run for Lamborghini's old-school, V-12–powered wedges. They all started with the curvaceous Miura, then Lambo moved on to the outrageous Countach, the devious Diablo, and then the stupendous Murciélago. All great, if flawed, exotics. The Aventador is the best of them all; so good that it's largely taken for granted now. What's next will be something different, if not something better.
Specifications
Specifications
2020 Lamborghini Aventador SVJ roadster
VEHICLE TYPE
mid-engine, all-wheel-drive, 2-passenger, 2-door targa
BASE PRICE
$584,061
ENGINE TYPE
DOHC 48-valve V-12, aluminum block and heads, port fuel injection
Displacement
397 cu in, 6498 cc
Power
759 hp @ 8500 rpm
Torque
531 lb-ft @ 6750 rpm
TRANSMISSION
7-speed automated manual
DIMENSIONS
Wheelbase: 106.3 in
Length: 194.6 in
Width: 82.6 in
Height: 44.7 in
Passenger volume: 50 cu ft
Trunk volume: 5 cu ft
Curb weight (C/D est): 3950 lb
PERFORMANCE (C/D EST)
60 mph: 2.8 sec
100 mph: 6.0 sec
¼-mile: 10.6 sec
Top speed: 217 mph
EPA FUEL ECONOMY
Combined/city/highway: 11/9/15 mpg
2019 Lamborghini Aventador S Roadster First Drive Review: Refined bull
Better dynamics, but this roadster retains a brutish feel
Image Credit: Lamborghini
Image Credit: Lamborghini
Image Credit: Lamborghini
Image Credit: Lamborghini
Image Credit: Lamborghini
Image Credit: Lamborghini
Image Credit: Lamborghini
Image Credit: Lamborghini
Image Credit: Lamborghini
Image Credit: Lamborghini
Image Credit: Lamborghini
Image Credit: Lamborghini
Image Credit: Lamborghini
Image Credit: Lamborghini
Image Credit: Lamborghini
Image Credit: Lamborghini
Image Credit: Lamborghini
Image Credit: Lamborghini
Image Credit: Lamborghini
Image Credit: Lamborghini
Image Credit: Lamborghini
Image Credit: Lamborghini
Image Credit: Lamborghini
Image Credit: Lamborghini
Image Credit: Lamborghini
Image Credit: Lamborghini
Image Credit: Lamborghini
Image Credit: Lamborghini
Image Credit: Lamborghini
Image Credit: Lamborghini
Image Credit: Lamborghini
Image Credit: Lamborghini
Image Credit: Lamborghini
Image Credit: Lamborghini
Image Credit: Lamborghini
Image Credit: Lamborghini
More Photos
It fires up the same way as the fixed-roof coupe, via a missile launcher-style shield hiding a small hexagonal Start button. With a firm press the starter whirs as fuel dumps into all 12 cylinders, igniting 6.5 liters of air and gasoline in a riot of internal combustion. But with its roof off, the $460,247 Lamborghini Aventador S Roadster stirs to life with an incrementally different auditory punch, a cascade of deep, raspy notes pours more clearly out of the enormous exhaust pipes and into the snug cabin.
Sound connoisseurs may notice the more mechanical whirs of valvetrain seeping into the cockpit, but we suspect the vast majority of Aventador S Roadster buyers are here for the sun – no doubt the reason Lamborghini organized this particular test-drive in Malibu, Calif. Our tester awaits with its twin carbon-fiber roof panels stowed in the nose, a rather convenient state because, as memory serves from our first-generation Aventador Roadster, the lid removal process requires a fairly awkward dance.
Climbing inside is a considerably easier task when this Lambo is opened up to the elements. There's no head-ducking or awkward sliding, though once settled you will struggle for a place to stow your cell phone. Apart from the shallow glove box there are no other storage compartments, just a tiny USB/12-volt outlet beneath a flip-up lid that's barely big enough to hold a key fob. At least a small concession to convenience comes in the form of a removable cupholder mounted on the passenger side of the center console.
When the massive V12 stirs to life, any concerns about practicality quickly fade away. The S Roadster gains the same improvements made to the S coupe, among them smoother suspension and improved aerodynamics (more downforce or less drag, depending on spoiler settings), the addition of four-wheel steering and a 38-horsepower gain, for a total of 729 hp. Also welcome is the ability to independently control suspension, steering and engine modes in what Lamborghini dubs the EGO setting.
That said, it's all but impossible to ignore the human ego when rolling through town in an al fresco Lamborghini: The pointy two-seater cuts through traffic like a blade, leaving a wake of camera phone-wielding gawkers and swivel-necked onlookers fixated on its origami edges. But more crucially to those who care more about driving than posing, the updated Lambo delivers a palpably different left-seat experience compared with the first-gen Roadster.
Like the earlier model, structural reinforcements add 110 pounds to the curb weight and incur a one-tenth-of-a-second penalty in the 0-to-62-mph sprint, doing the deed in 3 seconds flat. Top speed remains unchanged at 217 mph. But in this case, the Aventador is better equipped to mask the extra mass thanks to the new four-wheel steering system, which has the effect of virtually shrinking or lengthening the wheelbase by 20 or 27 inches, respectively.
On the tight stretches of Mulholland Canyon, I can feel the tail swing sideways while turning in to each corner, making the car feel like it's more willing to hustle its weight into the bend. In fact, the effect is sometimes so pronounced I need to delicately manage my steering inputs so the weight transfer isn't too dramatic. Similarly, Sport and Corsa modes require careful throttle modulation because the effect is so direct: jam the gas, and you'll lurch forward obtusely like a 15-year-old in driver's ed. But while the Aventador still feels somewhat big-boned and lacks the overall agility of the Huracán (and especially the Huracán Performante), the four-wheel steering goes a long way toward making it feel smaller than it actually is. The effect also comes in handy when pulling u-turns, revealing a noticeably tighter turning radius.
When flinging the Aventador through canyons there's some safeguard in the fact that the electronically controlled Haldex differential automatically adjusts the front/rear bias for optimal grip. It takes a bit of aggression, especially on warm weather days, to make the hulking 355-mm rear tires slip. Counterintuitively, the electronic stability control lets you get away with more shenanigans in Sport mode (which biases 90 percent of power distribution to the tail) as opposed to Corsa mode (which is tuned for optimal lap times and sends only 80 percent of power to the rear, making for fewer tail-happy slides but quicker, more efficient lines through corners).
We weren't able to drive the Roadster with the hardtop in place, but our recollection of our track drive in the previous-gen model suggests a rock-solid chassis that enables a high amount of confidence. The Roadster felt stiff and responsive during our canyon drive, suggesting little or no perceptible compromise to the fixed-roof car.
Through all the enthusiastic canyon carving and moderate-to-high-speed cruising, the cabin remains a surprisingly turbulence-free space, largely thanks to the considerable distance between the seat bottom and the airflow above. A relatively still pocket of air can be preserved by keeping all three windows up, but lowering the rear window amplifies the sound of the sonorous V12. Also neat is the beveled top edge of the windows, which adds a jewelry-like feeling to the interior which can feel otherwise plasticky unless the optional carbon-fiber trim box is ticked. But as with the coupe, there's a disconcerting lack of rear three-quarter visibility, which makes it particularly critical to mind the side mirrors (or just drive so fast there's nobody behind you to hit when you change lanes).
The seven-speed automated single-clutch gearbox enjoys some refinements with the S iteration, but there's still an inherent awkwardness to the shift action unless you're near the roadster's wailing 8,400-rpm redline. Trundle around in Strada mode, and the shifts are innocuously smooth, even leisurely. Things get crisper in Sport, but under moderate to mildly aggressive acceleration, there's still a jerky pause before the next gear is engaged. Hammer the throttle, a perfectly normal thing to do on a racetrack (but cause for arrest on public roads), and the digital tach on the TFT quickly climbs as the titanium exhaust spits out an angry tune that gets interrupted by a brief staccato pop while the transmission jams into the next gear. As fun (and effective) as it may be to drive an Aventador S Roadster at that level, the spectacle and speed are simply untenable on public roads. Unfortunately, there's no mellow middle ground, unlike in the Huracán, whose dual-clutch transmission is equally adept at low-speed loafing and high-speed frenetics.
The Lamborghini Aventador S Roadster is sharp, brash and more than a bit refined than its predecessor – but still an unapologetically imperfect beast thanks to its graceless gearbox and brutish manners. Yet in spite of its shortcomings, this strain of bull reminds of everything we love about mechanical charisma. The Huracán Performante may have all the right moves with its impeccable track manners and tightly contained dynamics, but the Aventador still reminds us of the days when supercars weren't so tractable and obedient, but rather wild, snorting and more than a bit daunting to drive fast. As a rolling expression of excess, it's hard not to fall for the open-air Aventador S's naturally aspirated scream for attention.
2015 Lamborghini Aventador Roadster review
Few machines can punch your gut harder than an Aventator, and none do it > By Ronan Glon August 1, 2015
2015 Lamborghini Aventador Roadster
"Not for the discreet, the Lamborghini Aventador Roadster boasts the kind of pure performance, planted handling and eye-catching looks that few other cars can match."
Blisteringly quick
Race car-like handling
Straight-forward roof system
Comfortable, well-built cockpit
Four bedroom-like price tag
Not for the discreet or the low-key
Very few machines this side of a Lockheed Martin fighter jet can prepare you for how quickly the Lamborghini Aventador Roadster accelerates. Imagine what it feels like to sit in a trans-Atlantic airliner as it accelerates down the runway before take-off, how you instantly and uncontrollably get pushed back in your seat. Multiply that feeling by two. You're still not quite there yet.
The effortless-yet-brutal acceleration delivered by the V12 engine is something that every car fan needs to experience at least once in his or her life. And it needs to be experienced with your right foot mashing the skinny pedal, not as a passenger, in Gran Turismo or on YouTube.
The best argument against self-driving cars
Power for the Aventador Roadster comes from a hand-built 6.5-liter twelve-cylinder engine tuned to deliver 690 horsepower at 8,250 rpm and 507 foot-pounds of torque at 5,500 rpm. The prodigious amount of grunt is generated by pure displacement; there are no turbos or superchargers hiding anywhere in the engine bay. While Lamborghini CEO Stephan Winkelmann openly told me that turbocharged engines haven't been ruled out for the upcoming Urus SUV, he hinted that Lamborghinisti shouldn't expect the Aventador to follow the industry's downsizing trend and adopt a turbocharged engine anytime soon.
Officially, the 3,583-pound Aventador Roadster can reach 62 mph from a stop in 2.9 seconds and go on to a top speed of 217 mph. I didn't verify that last statistic, but the acceleration is so brutally instantaneous that it feels much faster to 62. It goes fast, and it stays fast around corners thanks to a track-honed suspension system designed to virtually eliminate body roll and a light, rigid, carbon-fiber monocoque. You can take a bend at freeway speeds and not have to worry about ending up with the front end pointed in the wrong direction.
You'll likely reach your own limits before you get anywhere close to the Aventador's.
Then there's the grip. Power is sent to all four wheels via a seven-speed Independent Shift Rod (ISR) transmission that can be left in automatic mode or shifted manually with huge paddles, and through one of the grippiest all-wheel drive systems I've ever tested. The Aventador feels perfectly planted at all times, though, admittedly, the massive Pirelli rear tires also play a sizable role in putting power to the ground.
All told, the Aventador is a serious machine. Unless your resume includes stints at Mercedes-AMG Petronas or with Volkswagen's WRC team, you'll likely reach your own limits before you get anywhere close to the Roadster's.
Extreme, and extremely livable
Like the Aventador coupe, the Roadster has multiple personalities and buttons on the center console let the driver which one bests suits a particular trip.
In Strada mode, the Roadster does its best to be docile. It's really not. How do you expect a 690-horsepower convertible to be tame? And, more importantly, why the hell would you want it to be? But, let's say it's a little bit less extreme. The exhaust is noticeably quieter, the steering is lighter, the transmission shifts into the next gear sooner and it splits the twelve's torque 30/70. Strada doesn't neuter the Aventador by any means, and the effect it has on driving dynamics isn't as perceptible as it is in the smaller Huracán. But it will help you be slightly more low-key as you drive through tiny villages in the Italian countryside – you won't sound like Stirling Moss during the Mille Miglia.
Sport mode turns the dial up to 15. The Aventador becomes much louder, the steering is more direct, the throttle is markedly more responsive and the transmission holds each gear for longer. Additionally, it's even more entertaining to toss the Aventador into a bend when Sport mode is engaged because power is split 10/90 between the front and the rear axles.
It's even more entertaining to toss the Aventador into a bend when Sport mode is engaged.
Finally, Corsa mode unleashes the Roadster's full potential by dialing back the traction control and splitting the V12's power 20/80. The transmission can only be shifted manually when Corsa mode is selected. Gears arrive in as little as 50 milliseconds with a bone-jarring thunk that feels like sitting on a warship cannon barrel.
Corsa mode was designed largely for racing or doing hot laps. Sport is undeniably the best mode for all-around driving, I rarely used the other two during my time behind the wheel.
Even in Sport mode, the Roadster is relatively easy to drive in spite of its sheer outrageousness, and huge brakes all around keep the power in check. The steering is highly sensitive to input and direct, the Aventador goes exactly where you point it. However, one thing to keep in mind before you slip behind the wheel is that it's a large car, probably a lot moreso than it looks in pictures. Width checks in at 79.9 inches, which is about on par with a Chevrolet Suburban.
In the cockpit
Getting in and out of the Avetandor takes a little bit of getting used to, but it's not as awkward as it might seem. Once you're behind the wheel, you're faced with a fully digital instrument cluster designed so the driver can get vital information about the car and its surroundings in the blink of an eye. The tachometer is front and center, the speedometer is a small rectangle on the bottom right side of the tach, and a few more gauges on either side provide crucial stats such as the pressure and the temperature of the oil.
As you'd rightfully expect in a car that costs twice the price of an average starter home, fit and finish are nothing short of flawless, and the cockpit is built exclusively with top-notch materials. The bulk of the switchgear (including a switch that raises and lowers the suspension to help the Aventador clear driveways, and the buttons used to control the infotainment system) are located near the top of the slanted center console. The switches used to engage the transmission's manual mode and to shift into reverse are located further down the console. Overall, the passenger compartment is a surprisingly ergonomic place from which to enjoy the scenery as it flies by and the sound of the naturally-aspirated V12 snarling away. Provided the roof panels are off, passengers see more of the outside world in the roadster than they do in the coupe.
Lamborghini operates its own carbon-fiber plant, so it's not surprising that the Roadster's two roof panels are crafted out of the weight-saving composite material. As a result, they tip the scale at just 13 pounds each. The panels are held on by latches accessed by tilting the seats forward, and they can be neatly stowed away in the trunk when the sun comes out. The whole process takes mere minutes, and it marks an unquantifiable improvement over the Murciélago.
Conclusion
The Lamborghini Aventador Roadster looks like nothing else on the road and it delivers the kind of raw, brash and unadultered driving experience that few other machines can offer. It's a supercar – scratch that, a hypercar – like only the Italians know how to build. And, thanks to a vastly improved roof system, it's also the best convertible Lamborghini has ever offered by a long shot.
Ceny Lamborghini w Polsce — otwarcie salonu w Warszawie
Pierwszy w Polsce salon Lamborghini już od 3 lipca 2014 r. otwarty jest dla klientów. Jego wnętrza zdobią dwa wyjątkowe modele włoskich supersportowych samochodów luksusowych — Lamborghini Huracán LP 610-4 oraz Lamborghini Aventador LP 700-4. Cena modelu Lamborghini Huracán LP 610-4 w wersji podstawowej kształtuje się w okolicach 1,1 miliona złotych, z kolei cena modelu Lamborghini Aventador LP 700-4 rozpoczyna się od 1,8 miliona złotych. Na finalny koszt każdego z pojazdów wpływa jednak jego personalizacja, zgodnie z życzeniami nabywcy.
Salon Lamborghini Warszawa
Oprócz dostępnych na miejscu samochodów, w ofercie salonu znajduje się pełna gama aut producenta, a także linia odzieżowa Collezione Automobili Lamborghini. Właścicielem salonu Lamborghini Warszawa, a także wyłącznym dystrybutorem marki Lamborghini w Polsce, jest Porsche Inter Auto Polska — spółka posiadająca 18 salonów samochodowych w całej Polsce m.in. marek Audi, Volkswagen, Skoda, Porsche, Bentley, a teraz także Lamborghini.
Otwarciu salonu Lamborghini Warszawa towarzyszyła polska premiera najnowszego modelu Lamborghini Huracán LP 610-4, będącego następcą najpopularniejszego dotychczas modelu Gallardo, którego sprzedano 14 022 sztuk. Jednak to właśnie modelem Lamborghini Huracán LP 610-4 włoski producent redefiniuje segment supersportowych aut luksusowych. Samochód z 10-cylindrowym, 5.2-litrowym silnikiem o mocy 610 KM ma 7-biegową skrzynię i napęd 4×4. Prędkość 100 km/h osiąga w 3,2 sekundy, a rozpędza się maksymalnie do 325 km/h.
Lamborghini Huracán LP 610-4
Nowy model zaprezentowany został przez Stephana Winkelmanna, Prezesa i Dyrektora Zarządzającego Automobili Lamborghini S.p.A. Wydarzeniu towarzyszył także pokaz mody linii Collezione Automobili Lamborghini.
Salon Lamborghini Warszawa zlokalizowany jest przy ul. Wybrzeże Kościuszkowskie 45 w Warszawie (vis a vis Centrum Nauki Kopernik i obok salonu marki Bentley – również należącego do Porsche Inter Auto Polska). Z kolei, w punkcie obsługi przy ul. Połczyńskiej 118a w Warszawie oferowane będą usługi gwarancyjne i serwisowe oraz prowadzona będzie sprzedaż części i akcesoriów.
Porsche Inter Auto Polska jest spółką z kapitałem austriackim, która od grudnia 2012 r. przejęła
17 salonów samochodowych Audi, Volkswagen, Skoda, Porsche, Bentley znajdujących się w całej Polsce.
Założona w 1963 r. firma Automobili Lamborghini ma siedzibę w Sant'Agata Bolognese, w północno-wschodniej części Włoch. Lamborghini Huracán LP 610-4, który zadebiutował podczas Geneva Motor Show 2014, jest następcą Gallardo — ikony świata motoryzacji. Zaś model Lamborghini Aventador LP 700-4, w wersjach Coupé i Roadster, stanowi punkt referencyjny w świecie luksusowych, supersportowych aut z doładowanym silnikiem V12. W niewiele ponad pół wieku Lamborghini opracowało serię niezwykłych, ekskluzywnych samochodów, wśród których należy wymienić: 350 GT, Miura, Espada, Countach, Diablo, Murciélago, a także kilka limitowanych serii np. Reventón, Sesto Elemento, Aventador J. Veneno Coupé, Egoista, Veneno Roadster, które zostały opracowane na 50. urodziny marki w 2013 r.